Updates and releases
Metacartes, a Gandi supported project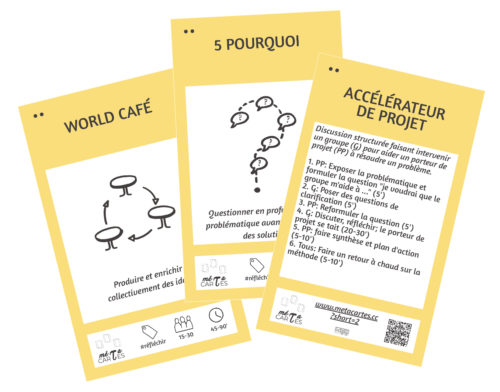 Metacartes, a Gandi supported project,offers new collaborative approaches to companies and non-profits through education and innovative tools.
What's Metacartes?
The goal of Metacartes is to integrate more user friendly tools into the public domain based on a paper card game connected to an online resource: metacartes. Metacartes are a set of cards that have a key element related to a theme and are related to an online source via a QR code. This card format lets users manipulate information visually and therefore "think with their hands." The cards are very concise, allowing for efficient memorization, but the QR code link, scanned from a smartphone, satisfies the curiosity of interested users by providing more exhaustive information and/or resources directly available online.
They currently offer two card games:
"Numérique Éthique" which interrogates the impact of the digital world on our lives
"Faire ensemble" the goal of which is to inspire new ways to bring professionals together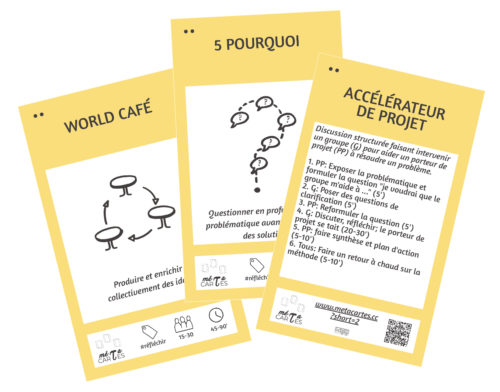 Metacartes is an ethical company created by Lilian Ricau, consultant, educator, and independent researcher, and Melanie Lacayrouze, teacher, educator, graphic facilitator, and cooperative pedagogy enthusiast. Their business consists of creating new, creative formats to collaborate better in the context of work. All of this with a strong cooperation oriented perspective focused on equity and durability.
Gandi supports Metacartes
It's primarily because of their work towards an alternative to big tech companies and their commitment to digital ethics that Gandi supports the project. What's more, the game itself brings up questions about the impact of the digital world on everyday life. As Metacartes explains on their website (link in French), this game "allows for raising awareness of and educating citizens about the issues of web ethics, giving citizens and organizations back the power to act, and recuperating the meaning of our activities."
To encourage Metacarates on this mission, Gandi has provided Metacartes with a Simple Hosting instance as well as free renewal on their domain names, through our "Gandi Supports" project. This mechanism has the goal of supporting companies and non-profits that do good, whether for the environment, for animals, for people, or for the digital community. This support takes place as Gandi's added value, which is to say, our expertise, our products, and our services.
If you also want to support Metacartes and use their innovative tools, check out their website (site in French).
Tagged in
Domain names
gandisupports